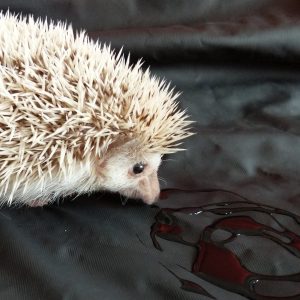 We couldn't believe it when one of our product reviewers, Emmeline Peaches, tested the strength of our sheets via the sharp quills of her pet hedgehog. But, as it turns out, this little critter loves our sheets and (in an even bigger shock) has quite a lot to say herself! So, let's continue to enjoy the Diaries of a Hedgehog, brought straight to you from the paws of our first fluffy team member.
Hai hai human peepz,
I y'am so happie to be able to talk to you today.
My mamz seems to have been very busy recently with her noise making devices. I y'am glad she is happy most of the time, even if she does steal my sheets too often.
Today mam cleaned me and made sure I was all okay. This ish very thoughtful of her and I think making sure someone ish doing well ish always a good thing.
Mam also gave me my flaxseed, which she uses to help keep my coat all nice and free from itchy flakes.
Oil ish such a useful thing and makes my skin feel so much better.
I don't know too much about peeps and oil, but I think it would help if rubbed in to the skin. Sometimes mam puts it on my skin when I'm in a nice warm bath and this ish good too. It also means I get nice and clean and am not too oily afterwards.
Perhaps peeps could also have fun with oils in the bath.
Oils on the sheets is so much fun too! I get to slip and slide while having my massage treatment and getting my skin all happy and healthy, then both me and the sheets get cleaned. Maybe this ish the bestest of both worlds!
I guess this ish what I've been thinking about while typing after my clean. I hope that it helps you, as all peeps should be happy with their oil and sheets.
Untilz my next sheet time!
Tali.