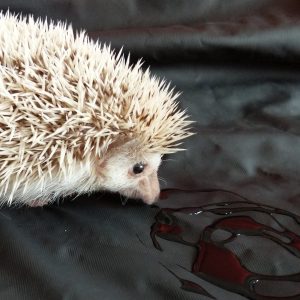 Hot Stuff – The latest instalment of our fun, tongue in cheek 'Diaries of a Hedgehog'.  The diaries may be fiction but its a real hedgehog and real sheets.
Oh hai peeps,
I hope yoo haff been having a very goods time doing peopul things. I've been being a hedgehog, which is very nice, I think, if not a bit spikey at times.
M'am is still taking very gud care of me and my sis and we also have a new brother. He is'h very big, not so spiky, and likes to sniffs at me. I don't like him but sis seems to, so she can have him!
It is'h getting a bit colder now, though, which means that I am wanting more sheets to snuggle and cuddle up with. Warmth is very importants for a little hedgehog like myself.
M'am seems to like heat too, though, and says i'sh important for hyoomans as well. Sometimes her warmth comes in the form of a big floofy blanket that we both share together. It is so fluffy and full of floof which makes us both very warm and happy. Snuggles for hyoomans is an absolute must.
Sometimes though m'am uses other methods to keep herself warm, like candles that drip and drop all over her body (she tells me they're 'soy' whatever that means), long stone and glass thingies that start of rully cold but them warm up if in hot water for a while (sounds very cosy!), or even devices with buttons that are made to keep her warm.
M'am also tells me that oil can be warmed and then poured over the body for hyoomans to experience different types of temperature too. I use oil to clean my paws and help by skin stay nice and soft, but m'am always makes sure she uses my sheets when she massages my paws with it. This makes sure none of the slippery, runny oil goes where it shouldn't. I thinks hyoomans would really appreciates my favourite sheets for the same reason.
Whatever way you stay nice and snug during this colder month I hope you have a good one and I shall pitter my pattering paws over the keyboard for you again very soon!
Bestest,
Tali.