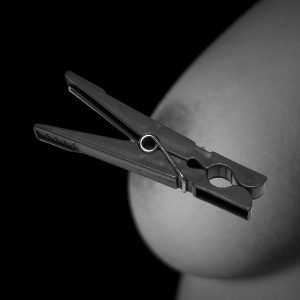 Welcome to our Sex Tips series. Short suggestions to help you get the most out of your time on our sheets. 
On The Sheets Today…
Nipple Clamping
What is it?
Nipple Clamping is a type of nipple play in which specially designed clamps are used to pinch or 'clamp' around the nipples in order to provide additional sensation.
Although nipple clamps are often used in a BDSM relationship between Dominant and Submissive, nipple clamps don't need to be purely sadistic or BDSM-centric. Decorative nipple clamps can be purchased, for example, as items of purely visual allure. Nipple clamps may also be part of sensation play, solo or otherwise, making these a very diverse part of one's sex life!
Our 'How To' Advice
Before buying nipple clamps it's important to consider what you want from them: Decoration, slight pressure, direct pain, weight, the ability to tug on them, the capacity to change heat, etc.
Try pinching your own nipples and/or have your play mate/s pinch them too. This should give you a good idea of your pain threshold prior to purchase.
Select clamps that meet your needs. We recommend starting with a 'tweezer' or ringlet pair that can be easily adjusted, don't have harsh metal edges, and come with the option of gentle play.
When purchasing your clamps also consider nipple size and pertness. Some nipples are smaller or more inverted than others and this can impact play. Consider any piercings in that area too and how they might impact clamp use.
Once you have your clamps then it's advised that you first try putting them on and adjusting them yourself. Once you have an idea of your tolerance levels you can guide and advice others safely on your limits.
Alternatively use clamps that you know you can tolerate (even at their tightest) and allow your play mate/s to go wild.
What Are The Key Benefits?
Nipple clamps can provide an eye catching appeal that instantly raises arousal.
The variation in blood flow provided by nipple clamps will allow other actions (such as sucking, nibbling, pinching, or the introduction of sensation toys or vibrators) to feel more intense.
Nipple clamps can be tugged upon to enhance power play scenarios or the anticipation and apprehension of a BDSM scene.
Nipple clamps can be customized with items such as chains or weights to add further play options.
Some Extra Tips
Before applying nipple clamps, try adding some warming or cooling oils/gels to the nipples to add even more variation to the stimulation provided.
Accessorize your clamps so that they are in keeping with certain outfits, moods, or scenes to add a roleplay or stylistic element to their use.
Never be afraid to bring in additional elements such as a pinwheel or some wax candles.
If your play mate/s have clamps on with a chain then toy with them: Run your fingers across the chain or twirl it gently, slowly building up the tugging sensation. After all, a chain is a terrible thing to waste.
Bringing In The Sheets
Buy two sets and, instead of sticking purely to nipple clamping, use them to clamp your play mate/s to the surface of the sheets. If they disturb the fabric too much they'll soon feel it.
Put your clamped play mate in to doggy style and/or similar and tell them that should you hear the chain of their clamps touch the sheets then there will be consequences.
If you're treating a clamp-loving partner then surprise them with a selection laid out on our sheets. Waterproof sheets are the perfect backdrop for the promise of a kinky play session to come.
Best Used For
Experimenting with pain, pressure, or sensation-based pleasure. Domination from beginner to advanced.