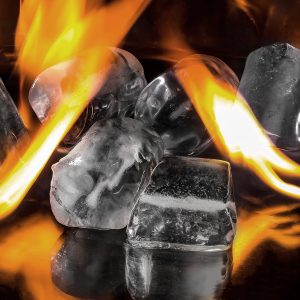 On The Sheets Today
Temperature play – The latest in our Sex Tips Series  Short suggestions to help you get the most out of the time on your sheets.
What is it?
It's been cold in the West as of late – many countries plagues with the type of weather that makes you want to stay indoors, turn up the heating, and snuggle up for distractions from the frost.
In such biting cold temperatures, the warmer bite of a lover can be the perfect deviation.
Sex is a heated activity and this is part of what makes it so appealing.
Some studies have even shown that sexual satisfaction goes up when those involved have their cold feet abated by the cosy embrace of a warm pair of socks.
But heat isn't just restricted to attire. Warmth is a sexual sensation that is strongly embraced by the temperature play movement and very easy to utilize.
Our 'How To' Advice
Temperature play is something that can be done with either hot or cold sensations. Cooling is a topic for another day. Today is all about warmth.
There are multiple different ways to experience temperature play, some complex, some incredibly simple.
Heating up some massage oil is perhaps one of the best initial ways to begin to explore brining some sensual warmth in to your erotic sessions.
This is done by placing the bottle containing your massage oil in to a bowl of hot (but not boiling) water. This will sufficiently warm it for use.
Keep the bottle in this hot water during use. This will allow you to always go back and retrieve some more warm oil when needed (whereas if you remove it the oil will begin to cool)
If oil isn't your preference then you can also use hot water to heat a sex toy for use.
Glass, metal, or semi-precious stone products are best for heating. Dildos, butt plugs, anal beads – all of these can be heated for a deliciously warm embrace during use.
Alternatively there is always wax play with sex-suitable candles or sensation lubricants which will provide their own heat.
What Are The Key Benefits?
Heat play has been attributed to increased sexual gratification, as mentioned above. If you're warm in the bedroom you're likely to climax in the bedroom.
A warming massage can release chemicals in the body which increase pleasure and a sense of happiness.
Warm sex toys feel different when inserted to the body and provide a different type of stimulation.
Warming gels and creams cause more blood to flow to the genital area, which leads to increased size of sexual organs and stronger climaxes.
Some Extra Tips
If warming using massage oils make sure that you don't couple the oil with a latex condom – the two don't mix!
When using warm sex toys always make sure to test the heat of the toy on the back of your hand or the surface of the lips before going near intimate areas. If the toy is too hot for either of these places then you don't want to put it near an intimate place.
Always check the ingredients of warming gels and creams for potential allergies and do a spot check on the skin first. Some warming gels and lubricants can cause an adverse reaction so this is important.
Some vibrators can be purchased with a warming feature. This is especially beneficial if you know that you need vibrations in order to achieve peak gratification.
Bringing In The Sheets
If you're going for an erotic massage then we don't need to tell you what a nuisance oil on cotton can be. Protect your delicates by laying our sheets down for your massage experience.
Doing this will also allow you to jump straight in to any sexual activities after the massage, without further worrying about making a mess. You deserve a smooth, seamless transition from sensual explorations to steamy sex.
There's nothing to stop you from making sure that the sheets themselves are warm. Place our sheets on a radiator just before use and then allow yourself or your lover/s to lay it out and then enjoy the warm embrace.
Bonus points if a blindfold is involved.
Best Used For
Those colder days when a warm embrace sounds almost as orgasmic as sex itself.